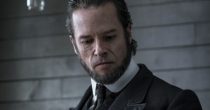 Coming soon is Brimstone which was written and directed by Martin Koolhoven. It stars Dakota Fanning and the Emmy-award winner Guy Pearce and following a young woman's epic quest for survival. Liz (Fanning) is a young and beautiful woman who is being hunted by a vengeful Preacher (Pearce) – a diabolical extremist and her nemesis. But Liz is a genuine survivor; she's no victim but instead a woman of fearsome strength who responds with astonishing bravery to claim the better life she and her daughter deserve.
Told in four chapters, BRIMSTONE is a suspenseful tale of guilt and retribution that unfolds at the end of the 19th century in the unforgiving American West. Making its premiere at the 2016 Venice Film Festival, BRIMSTONE is a tale of powerful womanhood and the resistance against an unforgiving cruelty of a hell on Earth. The film also stars Carice Van Houten (Game of Thrones, Black Book) and Kit Harington.
Brimstone is out in cinemas on the 29th of September.
Latest posts by
John McArthur
(see all)