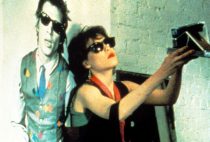 New York in the 70s and 80s: a time of fear, poverty, uncertainty…and unparalleled artistic freedom. This autumn Barbican Cinema screens The Grime and the Glamour, a unique film season which captures a period of significant historical change and creative energy in New York. The city's economic decline can be glimpsed through movies: in litter-strewn streets, in abandoned and decaying buildings, and in the squats of protagonists.
Barbican Cinema curator Tamara Anderson says, "Now more than ever there's an enormous amount of nostalgia for the gritty New York City of the 1970s and '80s, even among those of us who never lived through it. The films screening in The Grime and the Glamour immediately conjure the streetscapes, fashions, textures of the time, but also plot an itinerary for those interested in the cinema that emerged from the extraordinary artistic culture of this period – NYC was a city known well to Jean-Michel Basquiat, for example, subject of our Art Gallery retrospective, running concurrently."
But The Big Apple was also a city on the verge of substantial gentrification, poised between desolation and rebuilding. Some movies reflect the bohemian bourgeoisie on the margins of Manhattan: the creative community of the East Village included filmmakers such as Bette Gordon, Charlie Ahearn and Jim Jarmusch, for example. Whilst on the Lower East Side, wherever artists led developers were never far behind. With the earliest film in the season dating back to 1976, a year after the city's financial default, some films frame New York as a nexus of unhealthy perversion and moral disorder. Others show a city, though undoubtedly degraded, exciting, vibrant, and – especially when viewed in retrospect – almost impossibly glamorous.
In honour of the Basquiat: Boom for Real exhibition taking place in the Barbican Art Gallery, The Grime and the Glamour also celebrates NYC as Jean-Michel Basquiat's hometown, including screenings of Susan Seidelman's Desperately Seeking Susan, with Basquiat's ex-paramour Madonna in her iconic turn as Susan; Jim Jarmusch's Permanent Vacation, which saw Basquiat himself using the film set as a makeshift crash pad; plus hip hop classic Wild Style, starring the legendary Fab 5 Freddy and Ramellzee, personal friends and musical collaborators with Basquiat.
Anderson continues, "New York in these years was dangerous, decaying, and AIDS-hit – when we look back, it is also with a sense of loss. Now New York is a more gentrified place, less affordable to artists. Arguably then, there's an added relevancy for Londoners as these films are prized artefacts of a cultural ferment made possible, largely, by cheap rents."
The season of films runs from the 29th of September until the 5th of October. The full details can be found at https://www.barbican.org.uk/whats-on/cinema
Editor-in-Chief at Moviescramble. A Fan of all things cinematic with a love of Film Noir, Sci-Fi and Julia Roberts in Notting Hill. He hopes to grow up some day.
Latest posts by John McArthur (see all)