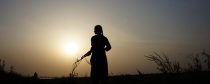 After it's premiere at this year's Edinburgh International Film Festival My Pure Land, the debut feature from director Sarmad Masud, gets its UK cinematic release. British-Pakistani director Sarmad Masud first envisioned the film when he heard of the true story of a group of young women who survived a siege on their home by relatives in rural Pakistan, culminating in them having to defend their land from a militia of 200 bandits. Their feat was almost unheard of and they were swiftly elevated to the position of folk heroes. When Sarmad heard their story he instantly knew this was the film he needed to make as his debut – a violent contemporary Western but grounded in realism and crucially with a feminist theme.
Shooting in Pakistan was challenging in the extreme, with the crew negotiating their way through one of the most heavily armed civilian regions on earth where kidnap and ransom is an ever present risk for foreigners. Their issues culminated when an embittered extra returned to set and opened fire on the production, although fortunately no-one was hurt. The film stars Suhaee Abro, Eman Malik, Syed Tanveer-Hussain, Razia Malik, Atif Akhtar Bhatti, Tayyab Azfa and Ahsen Murad.
My Pure Land is in cinemas from the 15th of September.
Editor-in-Chief at Moviescramble. A Fan of all things cinematic with a love of Film Noir, Sci-Fi and Julia Roberts in Notting Hill. He hopes to grow up some day.
Latest posts by John McArthur (see all)