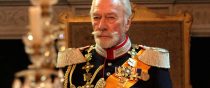 Just launched is the first trailer for The Exception. The film is based on the best selling novel The Kaiser's last Kiss. It is a spy drama set during the second world war and is set in the occupied Holland.  Nazi captain Stefan Brandt (Jai Courtney) is sent on a mission to investigate a threat to the exiled Kaiser Wilhelm II (Christopher Plummer). Arriving at the Kaiser's secluded mansion, Brandt learns that local resistance and British Intelligence are moving in on the deposed German monarch. As he begins to infiltrate the Kaiser's life in search of clues, Brandt finds himself drawn into an unexpected and passionate romance with Mieke (Lily James), one of the Kaiser's maids.
The film also features Janet McTeer, Ben Daniels and a memorable cameo from Eddie Marsan as the terrifying Heinrich Himmler. The Exception is based on Alan Judd's international bestseller, 'The Kaiser's Last Kiss' and is brought to the screen by acclaimed theatre director David Leveaux.
The Exception is in cinemas from the 29th of September.
Editor-in-Chief at Moviescramble. A Fan of all things cinematic with a love of Film Noir, Sci-Fi and Julia Roberts in Notting Hill. He hopes to grow up some day.
Latest posts by John McArthur (see all)