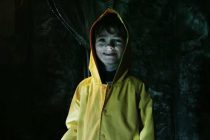 In a summer that has seen so many films fail to live up to expectations it is good to see It getting so much good press and very favourable reviews. Although there were some doubts raised as to the need for yet another reboot / remake the end product has more than delivered.
As with any successful movie the marketing campaign for It has been cleverly thought and executed with some real style. Having the image of the single red balloon and a creepy clown is a good starting point for any campaign and it has been followed through with a couple of well constructed featurettes covering the various aspects of the movie. In the latest we get an introduction to the kids that make up The Losers' Club, the main players in the story. With input from the actors and the creator of the story, Stephen King, it gives a little more insight into just why the film is such a success.
Editor-in-Chief at Moviescramble. A Fan of all things cinematic with a love of Film Noir, Sci-Fi and Julia Roberts in Notting Hill. He hopes to grow up some day.
Latest posts by John McArthur (see all)