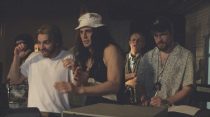 Tommy Wiseau is something of a Hollywood legend. Famed for his amazingly bad 2003 film, The Room, he's not at the centre of another film. But don't worry, he's not actually acting in it. James and Dave Franco, Seth Rogen and Alison Brie head up the cast of The Disaster Artist, a look at how Wiseau came to make his infamous contribution to cinema history.
The film looks like a neat blend of humour – "Why is he having sex with her bellybutton? He knows where her vagina is, right?" – and a genuine exploration of what it's like to try and 'make it' in Hollywood. Wiseau is clearly convinced of his own talents and abilities … It's just everyone else around him who has to keep up.
In a rather neat case of film reflecting life, James Franco is also directing and headlining, like his 'muse' Wiseau.
The trailer also reveals a few treats in terms of getting to see James Franco deliver some of The Room's more famous lines. Altogether now: "Your're tearing me apart, Lisa!" The film is set to have cameos from the likes of Bryan Cranston, Zac Efron and Megan Mullally.
The Disaster Artist is scheduled for UK release this year.
Editor at Moviescramble. European cinema, grisly thrillers and show stopping musicals are my bag. Classic Hollywood Cinema is comfort food. Spare time is heavily dependent on a lot of pizza and power ballads.
Latest posts by Mary Palmer (see all)