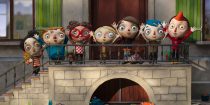 In association with Thunderbird releasing we are offering the chance to win a T-Shirt and a copy of the animated film My Life As a Courgette. From its debut in Director's Fortnight at Cannes to winning audience awards at festivals around the world, this accomplished debut feature from director Claude Barras, based on a script from acclaimed writer/director Céline Sciamma (Girlhood, Tomboy), was nominated for both a Golden Globe and Academy Award. After his mother's sudden death, Courgette is befriended by a police officer, Raymond, who accompanies him to his new foster home filled with other orphans his age. At first he struggles to find  his place in this often strange and hostile environment. Yet with Raymond's help and his newfound friends, Courgette eventually learns to trust and love, as he searches for a new family of his own.
Brought to life through memorably bold character designs and expressive stop- motion animation, My Life As a Courgette soars with laughter, sorrow, joy, and above all, stands as a testament to the resilience of the human heart.
To win a copy of the movie on DVD and a T-shirt please fill in the form below with the answer to the following question.
Who wrote the novel that the film is based on?
The competition ends at 23:59 on the 12th of October. Moviescramble will not pass on your details to anyone else. The editor's decision is final.
My Life As A Courgette is released on Blu Ray and DVD on the 18th of September.
Editor-in-Chief at Moviescramble. A Fan of all things cinematic with a love of Film Noir, Sci-Fi and Julia Roberts in Notting Hill. He hopes to grow up some day.
Latest posts by John McArthur (see all)