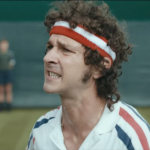 An icy Nordic berg versus a brash, bratty New Yorker. The gentleman of tennis versus the superbrat. The people's favourite versus a figure of villainy. That is exactly how Björn Borg and John McEnroe's Wimbledon final on centre court was billed by the world's press. It was an incredibly tense game, drawn out wherever possible, that pitted two incredibly passionate men against one another.
That is the subject matter of Danish director Janus Metz' latest offering. He details the build up to one of the biggest matches in tennis history – a rivalry that was essentially created by the media, who couldn't wait to pit these opposing personas against each other.
Sverrir Gudnason and Shia LaBeouf bravely take on the tennis icons in a film that actually serves to underline the similarities between the men and the deep sense of respect they had for each other.
I tend to avoid films about major sporting events as, inevitably, they are full of tropes and clichés about winning or losing and offer very little (useful) insight into the personal lives behind the personalities. However, Ron Howard's 2013 Formula One drama, Rush, changed my mind. It was excellently crafted and had the right balance of the sport itself and investment in the 'characters'.
Borg McEnroe is of a similar vein, making it for equally compelling viewing. It recalls Borg's youth tennis career – which would make an adult McEnroe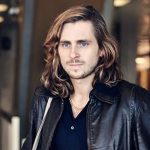 blush, so full of swearing, tantrums and attitude that it was. It is only the presence of Lennart Begelin (Stellan Skarsgård) that drilled any signs of personality out of the young Swede. A former Wimbledon quarter-finalist himself, he turned Borg into the glacially cool machine that he was famous for being. Skarsgard offers up a brilliant performance; harsh, disciplined and devoted to his prodigy.
Essentially, in their youth, these two tennis giants were incredibly similar. McEnroe was no less disciplined or focused than Borg, simply because he was prone to passionate outbursts. Their steely determination to win was simply realised in different ways.
Of course, the film recreates the infamous "You cannot be serious!" moment and really highlighted how McEnroe was shunned by the Wimbledon elite. He was booed and jeered constantly – there were even attempts by the crowd to throw him off his serve – simply because he didn't conform to the expected standard of the 'gentleman's sport.'
However, it is Borg who is at the heart of this film; his meticulous attention to detail, his rituals, his past and his superstitions make up a large portion of the film. It is an excellent study on the psychological impact of being a winner. As Borg himself says, "If I lose today, no one will remember the four titles I have won. They will only care that I lost the fifth."
The two leads put in brilliant performances, and prove an uncanny match for their real-life counterparts. The actual tennis match itself is incredibly tense – I did find myself clenching my fists or sighing at lost points. It's a well-shot game, never dwelling too long on the back-and-forth of the game, instead choosing to focus on specific match points or tie breaks.
LaBeouf pounds up and down the court, grumbling and throwing his arms up in despair. Metz' continuously focuses on Gudnason's unblinking, decisive stare. LaBeouf manages to combine McEnroe's notorious bad temper with a real vulnerability of youth. Gudnason is able to convey a whole range of despair, determination and drive whilst maintaining Borg's incredible stoicism.
Whilst the outcome of the film is already a foregone conclusion, Borg McEnroe is absolutely worth a watch – whether you're a fan of tennis or not.
Latest posts by Mary Palmer
(see all)