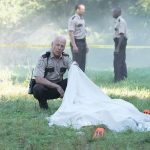 In association with Premier Comms we are offering the chance to win a copy of the new action drama, First Kill, on DVD. In an attempt to reconnect with his son Danny, successful Wall Street broker Will (Haydn Christensen) takes his family on a vacation to the cabin where he grew up. While Will and Danny are hunting, their trip takes a deadly turn when they witness the murder of a crooked police officer as a bank robbery goes awry. When Danny is taken hostage by the criminals, Will is forced to help them evade the police chief investigating the murder (Bruce Willis) and recover the stolen money in exchange for his son's life.To be in with a chance of winning a copy of the film please fill in the form below with the answer to the following question
What is the name of the film starring Bruce Willis and Joseph Gordon-Levitt?
The competition ends at 23:59 on the 24th of October. Moviescramble will not pass on your details to anyone else. The editor's decision is final.
First Kill is out now on Blu Ray and DVD.
Editor-in-Chief at Moviescramble. A Fan of all things cinematic with a love of Film Noir, Sci-Fi and Julia Roberts in Notting Hill. He hopes to grow up some day.
Latest posts by John McArthur (see all)