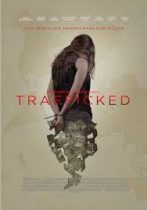 Coming soon is a new drama-thiller inspired by real characters from the award-winning book 'Sex Trafficking' by Harvard Professor Siddharth Kara. Trafficked is the story of three girls from America, Nigeria and India who are trafficked through an elaborate global network and enslaved in a Texas brothel. The film is the culmination of Kara's work and is intended to be both a compelling portrayal of the insidious industry that enslaves millions of vulnerable girls worldwide that generates profits of more than a hundred billion dollars a year, as well as a catalyst for more robust initiatives to tackle human trafficking and put an end to slavery and child labour.
Trafficked opens in theaters on October 6th in New York and October 13th in Los Angeles. An international release will follow.
Editor-in-Chief at Moviescramble. A Fan of all things cinematic with a love of Film Noir, Sci-Fi and Julia Roberts in Notting Hill. He hopes to grow up some day.
Latest posts by John McArthur (see all)