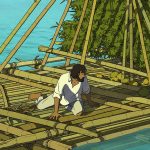 There is no hint of a culture clash as the legendary Studio Ghibli meets Dutch film-maker, Michael Dudok de Wit, to produce lush and lyrical animation, The Red Turtle. This dialogue-free creation has an almost magical feel about it; there is so much to wonder and behold. It's a stunning and striking piece of cinema that will stir and move even the most fervent anime-avoiders.
The richness of both the colours and the story ultimately create a touching and ambitious take on the trials and tribulations of life itself. An unnamed man washes up on a desert island; We have no idea where he has come from or why he was at sea. Actually, the film proves that we don't need to know these details – all we need to focus on is his feelings in the here and now.
The man tries, several times, to escape the island by constructing a raft from tree bark and leaves. Yet, every time he sets sail, his efforts are smashed to splinters by a mysterious force in the sea. We absolutely empathise with his frustrations and sense of helplessness. Following regular film tropes, we fully expect him to escape his paradise/prison.
The colour scheme in the film is a love letter to the richness of nature. The trees are greener than you've ever seen; the sea is a sparkling turquoise blue; the sunset washes a deep orange across the sky. The neat contrast between the vibrancy of daytime and the monochromatic scenes at night is utterly striking. And, of course, the very first time the red turtle emerges from the sea will make you lean forward in your seat and whisper "Wow!" It really is so utterly beautiful. Only six animators worked on this film, and it does feel more intimate and personal.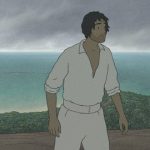 The lack of speech is never a problem. Alfred Hitchcock famously said that – with any film – you should be able to remove the sound and still know exactly what is happening. This is entirely the case here. You will go through a whole host of emotions – love, loss, anger, joy, sadness, frustration – because you are guided by a touch of the hand; the sound of the waves; the stunning score.
There aren't enough superlatives for Laurent Perez del Mar's breathtaking soundtrack. The musical and vocal arrangements are beyond perfect; utterly wrapped up in the emotion of the action. The score is sonorous yet sweet; powerful yet gentle; warm yet haunting. You'll never hear anything like it again.
The sound of the waves gently caress you through the film which I took to be a comment on several things; the ups and downs of life, accepting our circumstances and of home purely being where family or love exists. It's incredibly deep and will really make you think about relationships, survival and human behaviour (particularly towards nature).
But it's not all heavy and emotional. There are plenty of snippets of humour – not least from the group of crabs who scuttle in and out of the scene. Their attempts to hop on the raft or steal some food are quirky and funny.
I don't think that The Red Turtle will be for everyone. But it left me openly weeping. It truly sweeps you away with its minimalism; so much is conveyed through just one look or colour. It's a film that – visually, musically and thematically – will stay with me for a long time.
Editor at Moviescramble. European cinema, grisly thrillers and show stopping musicals are my bag. Classic Hollywood Cinema is comfort food. Spare time is heavily dependent on a lot of pizza and power ballads.
Latest posts by Mary Palmer (see all)