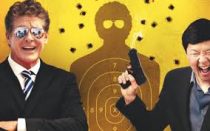 In association with Premier Comms we are offering the chance to win a copy of the newly released DVD Killing Hasselhoff. Co-produced by the team behind 2017's Baywatch and The Hoff himself, the film is packed with a host of celebrity cameos including comedian Howie Mandel, musician Kid Cudi and The Hoff's original Baywatch partner in life-saving crime – Gena Lee Nolin.
When Chris (Ken Jeong) a struggling nightclub owner, fails to pay back a debt to a loan shark, he decides that in order to get the money; his only option is to kill his entry in an annual 'who will die this year' celebrity death pool; David Hasselhoff. What started out as a regular week quickly turns into the worst few days of his life as, aided by his friends Fish (Rhys Darby) and Tommy (Jim Jeffries), Chris desperately tries everything he can to off the master of the slow-mo run and claim the jackpot. Along the way he'll find out that killing ain't easy, especially when your target is… The Hoff!
To be in with a chance of winning a copy of the film please complete the form below with the answer to the following question.
Which 2017 Marvel movie featured a cameo appearance from The Hoff?
The competition ends at 23:59 on the 30th of October. Moviescramble will not pass on your details to anyone else. The editor's decision is final.
Killing Hasselhoff is out now on Blu Ray and DVD.
Editor-in-Chief at Moviescramble. A Fan of all things cinematic with a love of Film Noir, Sci-Fi and Julia Roberts in Notting Hill. He hopes to grow up some day.
Latest posts by John McArthur (see all)