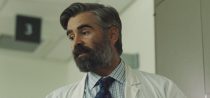 Yorgos Lanthimos returns to the big screen this year with a film that is a more than worthy follow up to his engrossing film The Lobster. Never one to present his audience with a straightforward drama, with The Killing Of A Sacred Deer, he has produced a deeply unsettling and densely packed suspense drama.
Doctor Steven Murphy (Colin Farrell) is a top heart surgeon who runs his operating theatre in the same way he oversees his home life. With his opthalmatologist wife Anna (Nicole Kidman) and his seemingly perfect children he appears to have it all. Unbeknown to everyone he has developed a mentor type relationship with a fourteen year old boy (Barry Keoghan) who's father was under the Doctor's care some time before. The boy, Martin, starts to insinuate himself into the family. The sinister purpose of his actions soon becomes very clear to the family.
Right from the opening scenes, there is an unsettling air about the film. The interactions between Murphy and his colleagues are stilted and emotionless. When he gets home, it is exactly the same. He is very polite but there is a real disconnect from normal behaviour. The fact that everyone else is the same lends to the atmosphere.
Farrell has been winning a bit of a reputation for making some really interesting movies. It seems like a long time ago when he was in standard Hollywood fare such as SWAT. Now in his second film with Lanthimos he is showing just how good he is. Here he is creepy and charming in equal measure. The fact that half of his face is not visible due to a rather glorious beard only adds to the performance.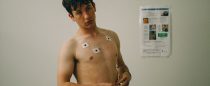 Equal to Farrel are the supporting performances from Kidman and Keoghan. Kidman herself is undergoing a renaissance as she has racked up at least three screen credits per year for some time now. Each one is different and challenging. A task that as an actor she is more than able to complete. Here she is Farrell equal in every way in terms of performance. The part of Anne is very much the supporting player to the success of her husband even though she has as much of a successful career as her husband. The fact that she plays wife, housemaid and childminder only reinforces her status within the relationship. As trouble hits the family, her suggestions are often ignored or dismissed, a fact that she almost always accepts without comment or expression.
Barry Keoghan is one of those actors who do so much by doing so little. His performance as the troubled boy is a master alas in internalisation. Nothing appears on the surface at al. Every remark is measured and without emphasis. It is immensely unsettling which fits in so well with the people around him. In giving such a measured portrayal Keoghan leaves the audience guessing as to his motivations and just what he will do next.
The director has crafted a film that will pull you in and keep you interested for the whole film. Enjoyment is not the word to describe it but definitely worth a watch.
Editor-in-Chief at Moviescramble. A Fan of all things cinematic with a love of Film Noir, Sci-Fi and Julia Roberts in Notting Hill. He hopes to grow up some day.
Latest posts by John McArthur (see all)