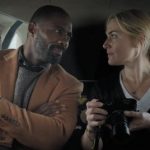 Romance sells, audiences love the predictability of the plot and expect the clichés presented to them. The Mountain Between Us doesn't disappoint in this regard, but what makes it original is its premise. Adapted from Charles Martin's novel of the same name, surgeon Dr. Ben Bass and photojournalist Alex Martin (Kate Winslet) find themselves stranded at the airport when their flight is cancelled due to bad weather. Alex is desperate to get home for her wedding while Ben has an emergency surgery to perform. Desperate, they hire a local pilot, Walter (Beau Bridges) and board an unchartered flight. Unfortunately, Walter suffers a stroke and the plane crashes, killing him instantly. Stranded on the mountain, Ben and Alex learn a lot about themselves and forge a bond born of hope and love.
Elba and Winslet have a great chemistry, a natural affability that makes their romance easy to invest in as it starts to blossom. Before it can get there, predictably, they have to be in conflict. Alex is irritating while Ben is initially cold and distant. The formulaic plot can be seen from space, yet this is evident from the get go. You know what you're getting when you sign up –  there's little twists to be had in this tale.
The setting of the harsh unforgiving mountain allows for some beautiful shots. The scenery is utterly exquisite even if the immediate hazards don't translate well to the audience. Yes, they're stranded and, with Alex injured, it makes them difficult to hike across the snowy terrain. The sense of peril is never great and, as we approach the midway point, the characters never feel in any real danger. The less said about the CGI cougar that makes an appearance, the better.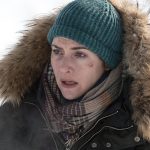 The film starts to drag in the third act – it's near two-hour runtime proving to be detrimental to the overall pacing. The screenplay hits the right notes but struggles in the final third as it toys with the outcome, although, it's clear as day how the story will be resolved. With a minimal cast, Winslet and Elba are to be commended for holding the attention of the audience when they spend most of the time onscreen just the two of them. Their performances are good, but aren't enough to elevate the film to a higher ground.
The climax tugs at the heartstrings and the final scene is wonderfully executed; the far-fetched premise of how we got to this point will require you to suspend disbelief. A fine film for the most part, The Mountain Between Us lacks substantial cinematic quality, it's a film best viewed cosied up on the couch on a cold winter's night.
Writer, filmmaker, friendly neighbourhood storyteller. Believes Jaws to be the greatest film ever made and will go down swinging with that belief.
Latest posts by Thomas Simpson (see all)