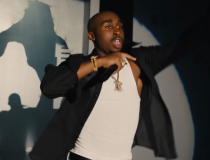 Fresh off the success of N.W.A biographical film, Straight Outta Compton, the life of Tupac Shakur is finally brought to the big screen. The production underwent many creative changes over the years as directors came and left, Benny Boom would be the man to finally helm the project. With Demetrius Shipp Jr. cast as Shakur, All Eyez On Me was eventually filmed and released. The road to get here was arduous and unfortunately the end product is underwhelming.

Opening up in 1995, we're first introduced to Tupac who's serving time at Clinton Correctional Facility. Subject to a documentary, Tupac recalls his earlier life growing up in Harlem, regaling us with his hardships before finally becoming a famous rapper and actor. The message is powerful as Boom frames Shakur as an iconic figure in the black community.
The director doesn't shy away from the controversies surrounding the Shakur's life either, although he does gloss over events with the suggestion the artist is innocent or misunderstood. As grimy as the source material is at times, there is a bland polish to the film's look that lacks the integrity or vigour to dig deep into the character.
Shipp Jr. is perfectly cast in the role, he has his real-life counterpart's mannerisms and look perfected. He portrays menace and kindness, highlighting the complicated nature of a man that was vilified for his "THUG LIFE" while being a beacon of inspiration for a downtrodden minority. The fast-paced nature of the story doesn't allow us to linger on many of the important aspects of his life however as we jump from scene to scene with little time to sink our teeth in. Considering the near two and half hour runtime of the film, it hinders the pacing by cramming so much in that it begins to drag around the ninety minute mark.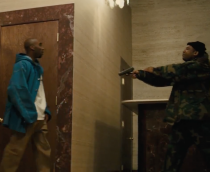 The supporting cast are fine but only feature as highlights to Tupac's life and function to pinpoint key moments without adding depth to the script. Legendary figures like Biggie Smalls (Jamal Woolard) and Dr Dre (Harold House Moore) come and go without emphasis of how impactful they were. We're told these friends become rivals but there's little dramatic narrative for us to invest in.
All Eyez On Me lacks the edge of its iconic subject and well publicised life story. For fans, it'll unlikely tell you anything you don't know while sugar-coating events for the wider audience. At times, it's a pedestrian drama lacking the cinematic quality it deserves. It's not a bad film, it's a bland film more likely to appeal to fans.
Latest posts by Thomas Simpson (see all)