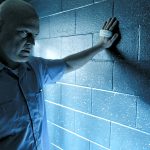 Brawl In Cell Block 99 is the film that will cement the reputation of it's director S. Craig Zahler. His directorial debut Bone Tomahawk was noted as being an impressive debut – mixing together the old west and brutal horror elements – which was one of the highlights of last year. It featured an impressive central performance from Kurt Russell. He relished the chance to take on a role that was a real challenge and something that doesn't come along every day for an actor. The critical success of the film meant that for the follow up Zahler could cast his net wider in terms of acting talent.
The film follows the fortunes of former boxer Bradley (Vince Vaughn). He is on a downward spiral, with things threatening to get out of control. He is laid off from his job and finds that his wife (Jennifer Carpenter) has been having an affair. He turns to drugs, running with an old acquaintance in order to get his life sorted. On a job with a new supplier, things go wrong – resulting in Bradley facing a seven year sentence and a pregnant wife back home. Once incarcerated, he is forced to take on a job under duress. This involves getting himself moved from his current prison to a high security facility where his target is located.
If nothing else, this film has given Vince Vaughn a whole new direction in his career. Having taken on more dramatic roles in True Detective and Hacksaw Ridge, he has strayed so far from the affable jokers that made up a large chunk of his acting career. He is almost unrecognisable as the seething mountain of anger that is Bradley. With a shaved head and a crucifix tattoo, he is an imposing figure before he even opens his mouth. Then, when he does, it just adds to the menace of the character. It feels like he could explode at any moment and it is only his only will that is stopping it from happening. Vaughn plays the part in a low key way. His delivery is dry and measured, giving little away in terms of emotion. He feels like a man that has nothing to prove and is totally confident in his abilities.
I saw this film in an early morning screening at the Sitges Film Festival. It was a packed house and the tension that built up on screen reflected in the reaction of the audience. The graphically violent visuals have little or no preamble, giving the outbursts all the more power. The staging, in conjunction with the explicitly focused soundscape, resulted in virtually the whole audience gasping and cringing with every new piece of bonework. Bear in mind that the festival is centred around horror and gore, so this was a battle-hardened audience reacting in a way that would have made the director very happy indeed.
Editor-in-Chief at Moviescramble. A Fan of all things cinematic with a love of Film Noir, Sci-Fi and Julia Roberts in Notting Hill. He hopes to grow up some day.
Latest posts by John McArthur (see all)