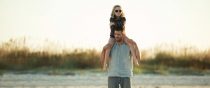 This half term take home Gifted, the funny, moving and heart-warming family-friendly drama that has it all; feel-good humour, laughter, friendship and romance! The chemistry between Chris Evans and McKenna Grace is heart-felt with a storyline that's gripping throughout. Beautifully directed by Marc Webb (500 Days of Summer, The Amazing Spider-Man) Gifted is both poignant and inspiring. The film  is available on Digital Download 9th October 2017 and on DVD and Video on Demand from 23rd October 2017. To celebrate, we're giving away a copy on DVD!
This charming and emotional story follows Frank Adler (Chris Evans), a single man dedicated to raising his spirited young niece, Mary (Mckenna Grace), a child prodigy. But Frank and Mary's happy life together is threatened when Mary's mathematical abilities come to the attention of her overbearing grandmother (Lindsay Duncan) – who has other plans for the girl. You'll love every moment of this "touching and funny" (Now magazine) film, also starring Jenny Slate and OSCAR® Winner Octavia Spencer*.
To be in with the chance of winning, just complete the form below with the answer to the question:
In Gifted, which actress plays Frank Adler's mother?
Lindsay Duncan
Octavia Spencer
Mckenna Grace
The competition ends at 23:59 on the 30th of November. Moviescramble will not pass on your details to anyone else. The editor's decision is final.
Don't miss the below clip featuring Chris Evans from the DVD extras!
Editor-in-Chief at Moviescramble. A Fan of all things cinematic with a love of Film Noir, Sci-Fi and Julia Roberts in Notting Hill. He hopes to grow up some day.
Latest posts by John McArthur (see all)