I am someone who can lose an entire Sunday to episodes of Murder She Wrote or Columbo. A good murder mystery can be enjoyed over and over again – even if you already know "whodunnit". Such is the case with Murder on the Orient Express, with its lavish costumes and decadent setting. It's a perfect example of a much-loved story that has been retold several times over.
Whether your Hercule Poirot of choice is Peter Ustinov, Albert Finney or (the man I grew up with as the "little Belgian") David Suchet, Agatha Chistie's meticulous detective has been keep generations of readers and viewers enthralled since his debut in The Mysterious Case of Styles in 1920. The theatricality of Poirot's exotic murder-mystery tales lend themselves perfectly to our equally dramatic thesp, Kenneth Branagh, who takes the title role as well as sitting in the director's chair.
Murder on the Orient Express is very much an ensemble piece, and the strong cast here do not let it down. Although Branagh's moustache is lavish to the point of distraction at times, he steps seamlessly into some fairly hefty (if not immaculately polished) Belgian brogues. His accent never wavers and he embodies all of the fussiness and precision that the "greatest detective in the world" is known for. His humour is dry and his patience is short; he is full of determination to piece together all of the evidence, leaving no detail amiss.
For the first time in a long time, I actually enjoyed Johnny Depp's performance. Thankfully, he's rid himself of the constant Jack Sparrow impression and has toned down the wild facial expressions. He puts in a very good, nuanced performance as Hatchett; the murder victim who no one will really miss. He's cruel, rude and obnoxious – and very charming with it.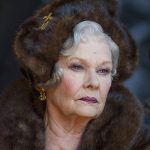 Josh Gad was excellent as Hector McQueen, a former lawyer with a drinking problem. It was nice to see him put in a dramatic performance that wasn't oafish or over the top. Derek Jacobi and Judi Dench – two titans of British stage and screen – are simply perfect. Dench, draped in furs and jewels, utters her lines with a guttural Russian drawl and a sneer of contempt; Jacobi is the clipped, consummate butler. Michelle Pfeiffer – who was the best thing in the disastrous mother! – also turns in a really interesting, emotive performance.
I get the feeling that this particular incarnation of Poirot is geared towards an American audience. The film is slick, glossy and tinged with the cold blue of the snowy mountains. There are also a couple of instances of violence that see Branagh tumbling around the railroad tracks that you simply wouldn't see with David Suchet. That being said, it doesn't take away from how enjoyable the film is.
My favourite part of any murder mystery is watching the detective piece it altogether to reveal the murderer. Whilst I am sure most readers already know what they're getting with this particular film, I won't ruin it for those who are newbies. Branagh delivers his final, damning verdict with flair and flourish. He prowls up and down, raising his voice, bewildering his suspects with his knowledge and insight. He's a solver of crimes and an expert in human behaviour.
The ending also potentially sets Branagh up to return as Poirot – he receives a telegram about another murder and "it's only on the bloody Nile!" – so we may well see him don that opulent grey moustache once more.
Murder on the Orient Express is a decent revival of a classic crime thriller, with really solid performances from the ensemble cast.
Latest posts by Mary Palmer
(see all)