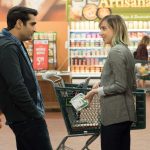 The Big Sick sounds like the way a small child would refer to a bad stomach bug. So, I was worried that this would be another infantile rom-com, packed full of clichés and "missed opportunities". Actually, this love story couldn't be further from the typical fairytale. I've definitely never heard of boy meets girl, boy's culture doesn't permit for such a relationship, girl falls into coma …
Kumail Nanjiani's semi-auto-biographical piece is a truly refreshing and interesting set up. It's comedic; it's dramatic; it's romantic. But it never feels fake or forced. It's about a relationship, but not just about one between a man and a woman. It explores new romance; lengthy marriages; arranged marriages and culture clashes. It's as much about an immigrant family's relationship with their new homeland as it is about finding love in an American city.
Kumail stars as what can only be described as a version of himself, working part-time as an Uber driver and gigging as a stand-up comic, whilst trying to appease his Pakistani parents and their vision for a law career and a good marriage. He meets Emily (Zoe Kazan) when she heckles him at one of his shows and – despite both parties proclaiming they are not looking for love – they quickly become inseparable.
What I especially loved about this film was the awkwardness of the first few dates. I loved the small talk; the desperate attempts to be witty; the invite to meet her parents. It all felt incredibly realistic and relatable. Kumail's script is so natural, avoiding lines about "the one" or any other such Hollywood tropes, which makes it easy to become so involved in the film.
As the title alludes, Emily falls dramatically ill, battling a rare infection that has attacked her lungs. It is in visiting her at the hospital that Kumail finally meets her parents, Beth and Terry (played brilliantly by Holly Hunter and Ray Romano). Their marriage is clearly struggling through its own issues and they are wary of their daughter's on/off romance.
Again, the dynamic between the three is excellent. There are some really well-timed jokes – Romano's blundering reference to 9/11, for example. Since Emily spends most of the film in a coma, it could be argued that The Big Sick is more about Kumail's unfolding relationship with his in-laws.
On top of seeing his girlfriend in a coma, Kumail is also trying to navigate his mother's quest to pair him off with a bride. Potential matches keep "dropping by" to dinner so, by the time he plucks up the courage to reveal his love for Emily, his mother is so horrified at the prospect of an American in the family, she disowns him. "What is the point in moving here if we're going to keep living like we're back there," he tells her – making for one of the most interesting thoughts of the film.
Yet, in the face of all the drama, no one spends the time in histrionics, even when the family gather at Emily's bedside. In fact, there is hardly a raised voice. Despite the gravity of the situation, what Kumail's script captures is the basic necessity for life to go on, especially when tragedy strikes.
The Big Sick isn't a film that's going to smash box offices; it's quietly endearing, gently funny and utterly human. It also has the added treat of wedding pictures over the credits which show Kumail with his real-life Emily. It's an incredibly sweet touch that only serves to further the rosy glow the rest of the film provides.
Editor at Moviescramble. European cinema, grisly thrillers and show stopping musicals are my bag. Classic Hollywood Cinema is comfort food. Spare time is heavily dependent on a lot of pizza and power ballads.
Latest posts by Mary Palmer (see all)