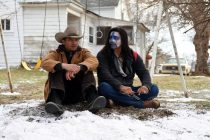 Wind River is the directorial debut of Taylor Sheridan according to all the publicity. He actually was in charge of a movie in 2011 but doesn't regard that as his for the reason that he was drafted in at the last-minute after the previous director was removed from the project. In his own words ,there was nothing of his in the final product and as it was the vision of another person he disregards it even if IMDB disagrees. He is better known as the writer of Sicario and Hell or High Water. For Wind River he decided to direct the script, and though nothing special, the final product was still admirable for a  (second) first time director.
A Native American girl is found dead in the titular Indian Reservation Wind River by expert hunter Cory Lambert (Jeremy Renner). As it is on Government land the FBI is called in. Agent Jane Banner (Elisabeth Olsen) arrives and a murder mystery ensues. Wind River is a one of those films that is let down by the director, it is a film that could have been a memorable, but was held back by its director and ends up being just barely above average.
Sheridan's direction is far from great. He is not a good visual storyteller, he fails to let most shots play out as they should and cuts what should be one shot into many. Though the shots lacked impact, most were visually pleasing and the cinematographer showed enough to be commended for his efforts. The strongest aspect of the film was Sheridan's script and, like his previous works, he writes characters with depth. The script is emotional and realistic. Two scenes in particular featuring Jeremy Renner and Gil Birmingham, who plays the victim's father, were the high points of the film. The dialog cut deep. The mystery plays out well and you learn what is going on along with the character. It was a tight story all round, The characters were great, even minor players felt like real people in a very real world.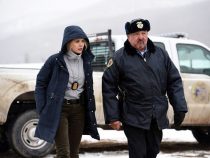 Another aspect of the film that showed Sheridan's lack of experience  in the director's chair was the overuse of music.  THe score and needle drops are always important in films and an experienced director knows when and where to use music to best effect. Sheridan clearly has no idea where the score should sit within a scene. There are several times where the music seems out of place. It is to the detriment of the story and it may have been an idea to have some of the scenes with less obvious or no music emphasising the mood.
The performances were, for the most part, moving. The father of the victim (Gil Birmingham) was easily the best in the film. He displayed a subtle sadness. In contrast one of the weak links was the only child actor, who admittedly isn't as bad as most child actors, but is still could have been given better direction. In a world where people like Michael Haneke will ensure that every child actor gives an amazing performance it feels cheap when one isn't very good in a film.
Jeremy Renner as usual is good value for money. You get a sense of his mourning through a simple glance and every bit of dialog he speaks feels authentic and caries weight. Unfortunately that is something I didn't feel with Elisabeth Olsen. Her portrayal of the unseasoned FBI agent is alright but is  nothing special. At times it felt like she didn't really believe what she was saying.
The film is still a decent first film and I think Taylor Sheriden shows potential. I hope he learns fast because another film like this and I may lose interest in following his films.
Latest posts by Rowan Driscoll (see all)