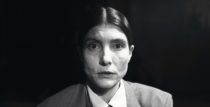 The short film Absinthe plays homage to the beautiful black and white old Hollywood stories and shares actual quotes from legends including James Brown, Janis Joplin, Frida Khalo and Marilyn Monroe. This avant-garde film stars two of France's most beloved actresses Oscar-nominee Marie-Christine Barrault and Cesar-nominee Brigitte Fossey, as well as American actor Larry Cech. The film was directed by Michelle Figlarz.
Absinthe shares the story of Simon, a spiritually lost man, who struggles to live in the past or move forward with his dream of re-igniting his long buried artistic passions. This imaginative piece is shot in colour and black & white and is influenced by the work of the famed 1930's French photographer Brassaï, who was known as "The Eye of Paris".
The short was the only short given permission to screen at The Marche du Film at the 70th Cannes Film Festival. The film screened at the DTLA Film Festival, in Los Angeles, and opened for the 25th Anniversary Screening of Robert Altman's The Player. It is currently under consideration for the 2018 academy awards.
Latest posts by
John McArthur
(see all)