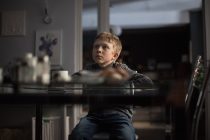 The new trailer for Loveless has just been released. It is directed by Andrey Zvyagintsev. The film has had a lot of attention this year having won both the grand jury prize at Cannes film festival in May and the best film award at the London Film Festival only last month.  If that were not enough, it has been announced that the film is also the official Russian entry for the 2018 academy awards. 
The story centres on Zhenya (Maryana Spivak) and Boris (Alexey Rozin) who are going through a vicious divorce marked by resentment, frustration and recriminations. Already embarking on new lives, each with a new partner, they are impatient to start again, to turn the page – even if it means threatening to abandon their 12-year-old son Alyosha. Until, after witnessing one of their fights, Alyosha disappears.
The film will be released in UK cinemas on the 9th of February.
Latest posts by
John McArthur
(see all)