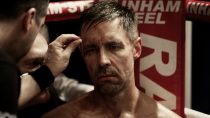 Out now is the trailer for Paddy Considine's second feature Journeyman. The film will be released by Studiocanal on 16th February 2018. Considine not only wrote and directed the film but also stars alongside Jodie Whittaker, Anthony Welsh, Tony Pitts and Paul Popplewell. Many of the supporting cast make their acting debuts and take on roles that closely mirror their actual professions with appearances from boxers, boxing commentators, nurses and occupational therapists. Journeyman was developed and shot in close collaboration with the boxing community and medical profession. 
The film tells the story of middleweight boxing champion Matty Burton (Paddy Considine). After winning a punishing title defense on points, Matty collapses at home. The journey towards regaining his speech, movement and memory will be the toughest fight he'll ever face, and the prize could not be greater, for his relationship with his wife Emma (Jodie Whittaker) and baby daughter Mia are on the line.
Editor-in-Chief at Moviescramble. A Fan of all things cinematic with a love of Film Noir, Sci-Fi and Julia Roberts in Notting Hill. He hopes to grow up some day.
Latest posts by John McArthur (see all)