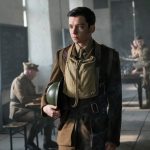 A wealth of British acting talent are set to bring R.C. Sherriff's 1928 play, Journey's End, from stage to screen as Suite Francaise and The Duchess director, Saul Gibb, brings the horrors of World War One to life. Set in the trenches of Aisne, northern France, the film centres around the "shellshocked" Captain Stanhope (Sam Clafin) and his group of soldiers.
From the outset, the trailer is incredibly intense; bodies lie strewn around the trenches as mud and shrapnel is hurled across the air. Clafin surveys his men, clearly traumatised by his experience. Young Raleigh (Asa Butterfield) is desperate to sign up to be reunited with Stanhope, his hero, only to discover that this once vibrant man has been reduced to a taciturn victim of warfare.
The film boasts an excellent cast; from Stephen Graham to Toby Jones; Paul Bettany to Tom Sturridge, each performance looks thoughtful and sentient. It conveys both the camaraderie of trench life and how the experience of war changed many soldiers irrevocably. This almost certainly will be a case of trying to sob silently in the cinema and may well rival the likes of Hacksaw Ridge and Dunkirk in terms of emotional intensity.
The film has already premiered at the Toronto Film Festival this year, and is set to appear in UK cinemas on February 2 next year.
Latest posts by Mary Palmer
(see all)