In association with Premiercomms we are offering the chance to win a DVD copy of the The Limehouse Golem along with a copy of the book and a film poster signed by Bill Nighy. Victorian London is gripped with fear as a serial killer – dubbed The Limehouse Golem – is on the loose and leaving cryptic messages written in his victims' blood.  With few leads and increasing public pressure, Scotland Yard assigns the case to Inspector Kildare (Bill Nighy) – a seasoned detective with a troubled past and a sneaking suspicion he's being set up to fail.  Faced with a list of suspects, including music hall star Dan Leno (Douglas Booth), Kildare must discover which one is the killer before the Golem strikes again.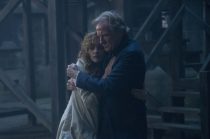 To be in with a chance of winning the goodies please complete the form below with the answer to the following question.
Who wrote The Limehouse Golem novel, the source material for the film?
The competition ends at 23:59 on the 24th of January 2018. Moviescramble will not pass on your details to anyone else. The editor's decision is final.
The Limehouse Golem is out now on Blu Ray and DVD.
Editor-in-Chief at Moviescramble. A Fan of all things cinematic with a love of Film Noir, Sci-Fi and Julia Roberts in Notting Hill. He hopes to grow up some day.
Latest posts by John McArthur (see all)