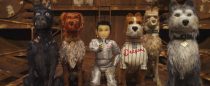 For the fourteenth annual edition of the Glasgow Film Festival the opening gala has been announced. The latest film from the director of The Grand Budapest Hotel (which had its UK premiere at Glasgow Film Festival 2014) and Fantastic Mr Fox, the animated adventure Isle of Dogs tells the story of Atari Kobayashi, 12-year-old ward to corrupt Mayor Kobayashi. When, by executive decree, all the canine pets of Megasaki City are exiled to a vast garbage-dump, Atari sets off alone in a miniature Junior-Turbo Prop and flies to Trash Island in search of his bodyguard-dog, Spots. There, with the assistance of a pack of newly found mongrel friends, he begins an epic journey that will decide the fate and future of the entire Prefecture.
The film features  an all star voice talents of Bryan Cranston, Koyu Rankin, Edward Norton, Liev Schreiber, Bill Murray, Bob Balaban, Jeff Goldblum, Scarlett Johansson, Kunichi Nomura, Tilda Swinton, Ken Watanabe, Akira Ito, Greta Gerwig, Akira Takayama, Frances McDormand, F. Murray Abraham, Courtney B. Vance, Yojiro Noda, Fisher Stevens, Mari Natsuki, Nijiro Murakami, Yoko Ono, Harvey Keitel and Frank Wood.
Festival Co-director Allan Hunter commented: "Wes Anderson is one of the most imaginative, beguiling filmmakers working in world cinema and we are thrilled to open GFF 2018 with the UK premiere of his brand new film. Four years ago we opened the Festival by booking into The Grand Budapest Hotel.  This year we invite audiences to set sail for the Isle Of Dogs. It will be a night to remember and the best possible start to a great festival."
Tickets for the opening gala go on sale from the 8th of January. Go to glasgowfilm.org/festival for full information.
Isle Of Dogs will open the Glasgow Film Festival on the 21st of February.
Latest posts by
John McArthur
(see all)