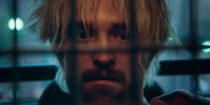 Good Time has one of the most concise titles of recent times; it does exactly what it says on the tin.
Starring Robert Pattinson (Twilight) and directed by the Safdie brothers, Good Time tells the story of Connie and Nick Nikas, two brothers whose night goes awry after they rob a bank. Unfolding in real time, the film chronicles their journey across the city as they desperately try to escape the powers that are pursuing them. Almost everything about the film is incredibly distinctive; the camera holds tight on the faces of the characters, the soundtrack is a hypnotic synth cocktail that never lets up, and the colours range from garish to muted.
I defy anyone to question Robert Pattinson as an actor after watching this film. By the end, I'd legitimately forgotten that it was him in the role. He plays a complete scumbag very well. We already knew he could act, of course, but this is a different kind of role for him. Not to mention Benny Safdie, who plays Nick, and who forms the emotional anchor which keeps Connie going, as well as the audience as we're forced to keep pace with him.
It's a tough watch at times, though. Some of the decisions made by Connie and several characters which he collides with during his night from hell make you question if you're actually rooting for them to win, or if you simply don't have a choice. One of these characters is Ray, a recently released ex-con who forms an unlikely alliance with Connie in an attempt to recover some drugs, and he manages to make Connie look good by comparison.
Tying all this together is an amazing soundtrack from Daniel Lopatin, which I can only describe as 'pulsating'. It feels alive. The songs range from saddening to downright stressful, mirroring the moods of the characters. It's no wonder that the film has gone on to win multiple awards for one of the rawest soundtracks released this year. I'm not going to lie and say that I didn't get a bit emotional at the ending, and 90% of that was down to the beautiful song they made.
Contributor at moviescramble
Latest posts by Matthew Lanceley (see all)