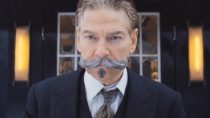 One of the films that stood out last year for a number of reasons was Murder On The Orient Express. The lavish adaptation of the best-selling Agatha Christie novel was brought to the screen by Kenneth Branagh who also took the leading role as the extravagantly moustached Hercule Poirot. The film was primarily notable for its all star cast  Penelope Cruz, Willem Dafoe, Judi Dench, Johnny Depp, Michelle Pfeiffer, Daisy Ridley and Josh Gad.
One thing that can be overlooked in the appreciation of a film is the part that the set designer plays in the overall feel of the piece. A film can have the biggest stars and the greatest script but if the scenes do not look just right it drags the audience out of the moment. The set design plays an integral part of the enjoyment. As part of the publicity materials for the film we get a look behind the scenes into the making of the film, this time with an emphasis of the work involved in creating the authentic period design.
Editor-in-Chief at Moviescramble. A Fan of all things cinematic with a love of Film Noir, Sci-Fi and Julia Roberts in Notting Hill. He hopes to grow up some day.
Latest posts by John McArthur (see all)