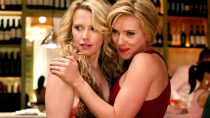 There was a lot of buzz surrounding Rough Night. The script was subject to an intense bidding war due to director and writer Lucia Aniello's success with TV series Broad City. With A list talent such as Scarlett Johansson and great comics Jillian Bell and Kate McKinnon attached, hopes were high. The finished product unfortunately falls way below the mark and instead of a strong female led comedy, Rough Night produces weak laughs and missed opportunities.

Jess (Johansson) is an aspiring senatorial candidate who is due to be married. Her old friends Alice (Bell), Frankie (Ilana Glazer), Blair (Zoë Kravitz) and Pippa (Kate McKinnon) want to take her on a wild and crazy bachelorette weekend. The fun is tame compared to other R rated comedies and the movie drags with little of note. Business picks up when the group accidentally murder a male stripper and while there are flashes of hilarity in the ensuing moments, they quickly fade away.
Although it's a clichéd premise it's not one without potential. Aniello however decides to play it safe as the humour never kicks up a notch. Johansson is a wonderful actor but fails to slot into the comedic role here. Bell and McKinnon are great and provide most of the laughs; it's disappointing that Bell in particular feels restrained as she could have really excelled considering the setup.
There is a distinct Weekend At Bernie's feel when the marketing suggested a female version of The Hangover. That's not a shot at Weekend At Bernie's (which I think is better than The Hangover anyway) it's just that Rough Night gives the impression it should be more important than it is while lacking any edge. The pace drags until the halfway point but even after than it never really kicks into gear while the third act is a by numbers tale of lost friendship and reconciliation. A disappointing film especially when taking into consideration the wealth of talent involved.
Latest posts by Thomas Simpson
(see all)