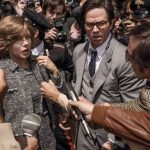 Despite the fact that Ridley Scott's All The Money in the World has a genuinely interesting storyline, I can't help but feel that the furore surrounding Mark Wahlberg's reshoot paycheck and having Christopher Plummer (no angel himself) dramatically drafted in to replace the now-outcast Kevin Spacey will somehow outweigh the merits of the piece itself. If that does prove to be the case, it will be a great shame as the film is really well shot, beautifully scored and offers up excellent central performances.
Upon finding out that his grandson (aptly played by Charlie Plummer) has been kidnapped, oil tycoon John Paul Getty boldly tells the waiting press that he is willing to pay nothing for his release, as "nothing in life is worth paying full price for". Yes, Getty appears to have all the money and none of the manners. Christopher Plummer is aloof and blunt as the aging billionaire – two qualities that also made him an excellent Captain Vonn Trapp – and by no means looks like a last minute replacement.
His character is obsessed with dynasty and lineage; believing himself to be a reincarnation of the Emperor Hadrian (humility, like manners, cannot be bought, either). So, it is fitting, then, that the film is set in Rome – a city that has been home to wealth, decadence, and empires for as long as historians can remember. Daniel Pemberton's grandiose, operatic score is a neat reflection of this setting. Ridley Scott does give the film a barely imperceptible sepia tinge; conveying both the 1973 time period and the grimy Calabrian underworld.
Getty is a hugely complex character; utterly unlikeable and, yet, you can't argue with his logic, at times. "I have fourteen grandkids," he says, "If I pay the ransom for one, I'll be paying fourteen ransoms in no time." Luxuriating in billions does have its down sides. It takes the arrival of the young Paul's severed ear in the post before old J.P. will even consider opening the vaults.
Mark Wahlberg puts in another generous performance as Fletcher Chase, one of Getty's wheeler dealers who comes to realise the value of a man over the value of a dollar. Wahlberg is really excelling in his dramatic roles – here, he puts in another subtley interesting performance … Worth every penny of his re-shoot fees. Michelle Williams, for me, misses the mark. She seems so caught up in delivering her very best Katharine Hepburn accent that her histrionics felt false and forced. There wasn't enough time, either, spent establishing the relationship between her character and her son.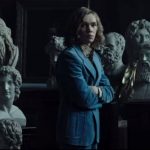 One of the most interesting characters was that of Cinquanta (played beautifully by Parisian actor, Romain Duris). Although he initially kidnapped the Getty heir, his character becomes softer and more concerned about the welfare of the young boy. As he simply disappears into the night, I would be intrigued to see what ever became of him.
I doubt that All The Money In The World will be making many Top 10 lists at the end of the year. As is often the case with these biopics, as most audiences already know the outcome, there is a sense of anti-climax about it. Having said that, it's a thoroughly enjoyable watch with an excellent score and some truly interesting performances at its heart.
Editor at Moviescramble. European cinema, grisly thrillers and show stopping musicals are my bag. Classic Hollywood Cinema is comfort food. Spare time is heavily dependent on a lot of pizza and power ballads.
Latest posts by Mary Palmer (see all)