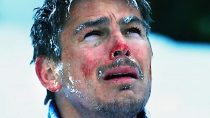 In association with Premiercomms we are offering the chance to win a copy of 6 Below on DVD. A recreational trip to the mountains becomes a test of human endurance and a fight for survival.  Eric LeMarque (Josh Hartnett) is a thrill-seeking snowboarder with a weight of personal demons on his back. When he gets lost in a massive winter storm in the back country of the High Sierra Mountains, LeMarque is pushed to the limit and forced to battle those demons head-on as he fights against the worst the elements can throw at him.
To win a copy of the film please complete the form below with the answer to the following question.
What is the name of the Josh Hartnett film that featured Bruce Willis?
The competition ends at 23:59 on the 12th of February. Moviescramble will not pass on your details to anyone else. The editor's decision is final.
6 Below is out on Digital HD on January 8th and on DVD January 15th.
Editor-in-Chief at Moviescramble. A Fan of all things cinematic with a love of Film Noir, Sci-Fi and Julia Roberts in Notting Hill. He hopes to grow up some day.
Latest posts by John McArthur (see all)