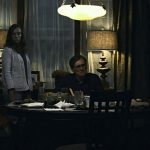 It's already being touted as "scarier than The Exorcist" and the hotly anticipated horror, Hereditary, marks the feature length debut of writer / director, Ari Aster. Featuring the likes of Toni Collette, Gabriel Byrne and The Handmaid's Tale's Ann Dowd, it's a sepia-toned shocker about family secrets.
When the matriach of the Graham family dies, her daughter's family slowly unravel increasingly horrific aspects of their family history; most namely a sinister fate that they are doomed never to outrun. Their seemingly sweet mother and grandmother has left behind a shit storm of holy hell. The trailer starts off looking in on the family, as if they lived in a doll's house; seemingly inhabiting the rosy glow of surburban life before a more ominous and disturbing way of life unleashes itself.
The alleged "scariest film of the year" then has plenty of jump scares and an overall feeling of unease as dead birds, creepy miniature models, people on fire, violence and – something that really freaks me out – weird reflections start to appear at a rapid rate and really ramp up the overall feeling of all-out terror. Judging by the trailer, it's easy to imagine that most of the viewing public will be shitting their pants watching this. I can't wait.
Hereditary is released in US cinemas in June but has yet to secure a definite UK release date.
Editor at Moviescramble. European cinema, grisly thrillers and show stopping musicals are my bag. Classic Hollywood Cinema is comfort food. Spare time is heavily dependent on a lot of pizza and power ballads.
Latest posts by Mary Palmer (see all)