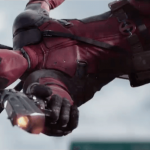 As the man in the red suit once said: With great power, comes great merchandising opportunities. No, not Santa, but everyone's favourite antihero, Deadpool. A full length trailer has finally dropped for David Leitch's sequel and it is going all out in its focus on Josh Brolin's hotly anticipated incarnation of Cable.
So many names were tossed into the ring for this sequel, including Quentin Tarantino to direct following Tim Miller's departure and the likes of Brad Pitt, Michael Shannon and Mel Gibson as potential fits for Cable.
But, as far as this trailer is concerned, fans of the chimi-changa loving Marvel character will not be disappointed. The trailer starts off with plenty of mean and moody shots; Cable awakening and delivering a series of brooding one liners. Providing just a hint of backstory – "I'm Cable and I like blowing shit up" – it's clear that there is very much a love/hate relationship between him and Deadpool. It's not long, however, before Ryan Reynold's sarcastic superhero interrupts to slag off Henry Cavill's CGI moustache and offer his own unique commentary on the – as yet – untitled sequel.
The marketing campaign has, once again, been tremendous. Reynolds, in particular, is having the time of his life releasing funny images and mock trailers via social media.
Deadpool 2 (or whatever it will be called) is in UK cinemas on May 16.
Editor at Moviescramble. European cinema, grisly thrillers and show stopping musicals are my bag. Classic Hollywood Cinema is comfort food. Spare time is heavily dependent on a lot of pizza and power ballads.
Latest posts by Mary Palmer (see all)