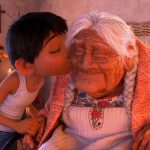 Explaining death to a child is, in most circumstances, a difficult thing to do. More often than not, there is talk of remembering those who have passed; through photographs, stories and anniversaries. Pixar's last original film for the next decade focuses on the Mexican festival of Dia de los Muertos – celebrating the passing of previous generations in a tradition that is so full of life.
Coco is a truly vibrant affair; visually stunning and packed full of a real love of culture, family and traditions. On the surface, it's a colourful, humourous kids film but it's so much more than that, dealing with serious, existential themes such as death, fate and memory. It is so rich, warm and affectionate towards the culture and tradition its celebrates.
At the heart of Lee Unkrich's film is Miguel (played joyously by Anthony Gonzalez), a young boy with a passion for flamenco guitar and a love of all things musical. He idolises Ernesto de la Cruz, a popular dead singer, and wants to follow in his footsteps. There's just one problem: Music has been banned in his family for several generations because his great, great grandmother was abandoned by her musician husband.
It's the night before the Dia de los Muertos, and the village is decorated with pretty, colourful bunting and traditional tangerine marigolds. Miguel's family – held up by the formidable matriarch, Abuelita (Renee Victor) – are preparing to welcome him in to the family business of shoe making. As he gazes upon the previous generations on his family ofrenda, he declares that he doesn't want to be part of the tradition and runs away to pursue his love of music.
From there, Miguel – accompanied by his Tuna lookalike dog, Dante – crosses over to the incredible Tierra de la Muerte in the hopes of meeting his hero, Ernesto (Benjamin Bratt). The animation really comes alive from here; the stunning landscapes inspired by the colourful houses of Guanajuato positively sparkle in their colourfulness. The breadth of Mexican traditional music is realised in ballads, in orchestras, in mariachi bands. There are beautiful little touches such as the candlelit glow of the Santa Cecilia graveyard – Saint Cecilia is the patron saint of musicians – and plenty of fun Pixar Easter Eggs (yes, John Ratzenberger still manages to make an appearance).
Miguel's journey through the Land of the Dead is incredibly emotional, as he comes face to face with his ancestors and the mischievous, Hector (a sweet and sentimental performance by Gael Garcia Bernal). He makes his way through the spiralling, neon metropolis populated by jaunty, decorated skeletons in traditional Mexican dress and colourful, mythical alebrijes (spirit animals). It's a zingy mix of heartfelt joy and poignant sadness – the issue of people "fading" is a particularly hard notion to swallow.
As well as attempting to sing along to the utterly gorgeous, "Remember Me", what Coco will mostly leave you with is perhaps a replenished sense of family and belonging. Our past can define who we are – or even change us – but the sense of being part of something unique is almost overwhelming. Our families, whatever shape they might take, are bursting with stories of love, loss and everything in between. We can choose to follow in their footsteps or branch out and do our own thing, but we should always choose to remember where we've come from.
Coco is a heartfelt triumph for Pixar studios, brimming with glorious animation and a fantastic soundtrack. The voice work is incredible and the plot has enough twists and emotional tugs to keep kids and adults interested to the end.
I may have bawled for the last half hour or so, but I left the cinema feeling truly uplifted and grateful for my own family.
Editor at Moviescramble. European cinema, grisly thrillers and show stopping musicals are my bag. Classic Hollywood Cinema is comfort food. Spare time is heavily dependent on a lot of pizza and power ballads.
Latest posts by Mary Palmer (see all)