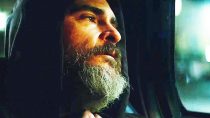 We need more Lynne Ramsay. She has three full length film credits to her name prior to the release of You Were Never Really Here in a career that has spanned nearly two decades. Of course, you can't really argue with her process if the quality of the output is as high as Morvern Callar, Ratcatcher and We Need To Talk About Kevin. Her new one is easily as good as the preceding films with a standout performance from Joaquin Phoenix in the lead role. Ahead of its full UK release in March, the film gets a screening at the 2018 Glasgow Film Festival.
Joe (Joaquin Phoenix) is the guy that gets called when there is no other alternative. He specialises in tracking down missing girls and bringing a world of hurt onto those who try to stop him. The work is there to keep the demons of his past at bay and bring in enough money so he can look after his frail mother. In the aftermath of his latest successful job all hell breaks loose. Joe finds himself in a position where everyone around him is in danger as his fragile mental state starts to deteriorate.
This film looks at the reasonably familiar genre of the revenge thriller from a very different angle. First of is the central protagonist. Joe isn't just troubled. He is neck deep in psychological problems that threaten to engulf him. It is only the routine of caring for his mother, a good deal of self medication and self asphyxiation that keeps him sane. Not your typical main character that is for sure.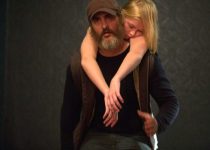 The other notable difference is the on screen portrayal of violence. We first encounter Joe as he cleans up after a job. He is cleaning a hammer, his weapon of choice. The impression we get is that he knows exactly what he is doing and this isn't the first time he has carried out this task. There is no need to see the act to know just what Joe is capable of. A the story unfolds we see examples of his work, almost always after the fact. Only twice we see him in action. Once with a gun which is quick and dirty. There is no glamour attached to the act all. The only time we see him using the hammer is via a grainy CCTV screen which all but renders the violence unwatchable in terms of detail. This is no accident as it focuses on the character of Joe rather than skill set he possesses.
Phoenix is superb in the role of the troubled man. Physically he looks like a beaten man. Heavy set with a full beard, he is the embodiment of a walking trauma. He doesn't need to express himself to get his point across. For the most of the film he is quiet to the point of silence. It's all in the eyes though. We can see the pain he has gone through and is still reliving. Slowly it emerges that he may be suffering from PTSD from both his time in the military and from his childhood experiences at the hands of his cruel and abusive father.
For a film that has a run time of only eighty five minutes it takes it time in developing the main story. Ramsay has written the main character in such a way that it gives Joaquin Phoenix space to bring him to life. He is featured in every scene of the film. It never feels like the film is drifting at any point and the pacing is just right. Helping with this is another superb score from Johnny Greenwood. The musical contributions are minimal but are jarring and brutal. They seem to emphasise the turmoil within Joe's head rather than anything to do with mood of the scene.
Overall, a film that engages right from the start and keeps you wanting to find out more.
Latest posts by
John McArthur
(see all)