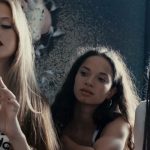 The first time a teenage girl becomes aware that she is going through puberty can be an uneasy readjustment. It is often a forceful goodbye to childhood and an unwelcome hello to a plethora of awkward conversations about the "changes to your body". Mia (Luna Wedler) is experiencing exactly that. And, on top of her newfound womanhood, she is struggling to cope with a move to a new school and typical teenage angst directed at her mother.
But the changes that Mia starts to notice are not the normal forays into adulthood. Her toes are webbing together and her legs are mottled with bruises. She cannot stop eating the goldfish in her mother's aquarium and she often imagines she is fully submerged in water. Despite this creeping transformation, Mia remains determined that she will fit in with the "cool girls" in her new school – even if that means shoplifting, popping pills and sleeping around – and do her best to ignore whatever is happening to her.
Writer / director Lisa Bruhlmann makes her feature length debut with coming of age fantasy drama, Blue My Mind. In some ways, it's a film that is an entirely typical representation of the teenage experience. There's peer pressure, underage drinking and arguments with parents. In other senses, it's a magic realist approach to the process of puberty. The constant need to please everyone – parents, teachers, friends – can feel like drowning and so Mia's frequent visions of being underwater feel relatable. Her rage against her changing body and wildly fluctuating moods – albeit she's turning into a mermaid, not just getting her period – are also entirely commonplace.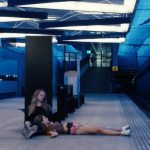 It's a film that draws upon many others; namely teenage classics such as Heathers or Girlhood, coupled with more recent stories such as Raw or The Shape of Water. It also calls to mind similar body horrors such as The Fly and Metamorphosis. Like Kafka's fateful protagonist, Grigor Samsa, Mia is not exactly living in domestic bliss and her parents are less than understanding about her behaviour. There is extreme tension and conflict within the family set up, not helped by the fact that she is conflicted within her own mind.
The two female leads – Wedler as Mia and Zoe Pastelle Holthuizen as teenage tearaway Gianna – are absolutely outstanding. The dynamic between these two girls changes wildly throughout the film and is utterly engrossing to watch. Their performances are absolutely incredible. Wedler, at times, looks so innocent and vulnerable and her spiral into drink and drugs at the sight of her changing body is totally credible. Holthuizen – a Swiss Instagram star – has all the pout and popularity of a girl who doesn't want to go home because her parents don't love her. Her hardened exterior slowly softens as she allows Mia into her world.
Apart from Mia's final transformation – which is truly heartbreaking to watch, particularly as she drags her new body down a lengthy hallway – one scene in the film will no doubt get called out for being "shocking". It involves leering male students closing in on the drunken, drugged protagonist and literally queueing up to stick their dick in her mouth. Whilst some may feel it is unnecessary or too graphic, I believe it is justified in the context of Mia's desire to be "normal" and loved as she battles against the relentless pace of her metamorphosis.
Blue My Mind is a challenging watch. On the one hand, Mia's teenage antics often mean you want to give her a slap; other times you are utterly shocked by what is unfolding in front of you. Bruhlmann has created the perfect blend of adolescence and body horror.
Blue My Mind is currently screening at the Glasgow FIlm Festival.
Editor at Moviescramble. European cinema, grisly thrillers and show stopping musicals are my bag. Classic Hollywood Cinema is comfort food. Spare time is heavily dependent on a lot of pizza and power ballads.
Latest posts by Mary Palmer (see all)