Once upon a time, the idea that a professional wrestler would make the jump to the big screen was met with much derision and mockery. It wasn't uncommon for the athletes to throw their hat from one ring to another, it's just that the results weren't often much to shout about. As always, there are exceptions to the rule and recent years has seen pro wrestlers turned actors shake up Hollywood in such a way that it's easy to forget some of these stars ever had a past career.
Dwayne Johnson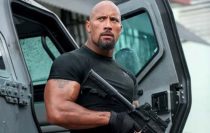 Easily the biggest success story is that of Dwayne "The Rock Johnson", who made his big screen acting debut back in 2002's The Mummy Returns. Paid $5.5 million for his debut role (a world record). From there,  Johnson bounced from ring to screen as his star power in Hollywood slowly grew. 2011's Fast Five not only helped Johnson's career, it helped transform a tired series into a multi-billion dollar franchise that is now onto its 8th film. There's also a spinoff starring Johnson and Jason Statham in the works, Hobbs and Shaw. Johnson was the top-grossing actor of 2013, the highest paid actor of 2016 and shows no signs of slowing down with over 10 films in development including DC's Black Adam.
Dave Bautista
Bautista may not be the household name that Johnson is but he has carved himself out an impressive career in Hollywood that has cemented him as an actor to be taken seriously. Bautista had been acting since 2006,  but it was 8 years later in Guardians of the Galaxy that the former WWE world champion broke through to mainstream audiences. His hilarious turn as Drax the Destroyer was show stealing,  and Bautista followed up with a sombre and menacing performance as a James Bond baddie in Spectre. An imposing figure, he continues to show a depth to his performances as he seeks to do more indie films.
John Cena
He's been at the top of the WWE for over a decade, winning a record equalling 16 world championships and providing much joy outside the ring having granted the most wishes for Make-A-Wish with over 500 granted. Unlike Johnson and Bautista, Cena remains heavily involved in the ring although with his career winding down, it'll open up more opportunities in Hollywood. Run of the mill action films such as The Marine and 12 Rounds came and went without much fanfare, however recent outings in Trainwreck and Daddy's Home 2 highlighted the comedic talent Cena possesses. Although in his twilight years in the squared circle, Cena is starting to hit his stride on the big screen with a promising acting career in front of him.
Roddy Piper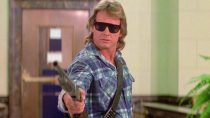 Rowdy Roddy Piper was one of the WWF's most colourful personalities.  Known for his trademark Scottish (*cough cough*) temper, he was a magnetic personality that left a lasting impact on the sport. He may not have been known for his blockbuster roles, Piper worked steadily as an actor for over twenty years, continuing to find work up until his death in 2015. His most notable role was the lead in John Carpenter's cult classic They Live. Starring as drifter John Nada, he helped create one of the most memorable and quote worthy protagonists in Sci-fi forging a legacy that still permeates through pop culture today.
Jesse Ventura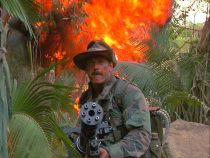 Not many movies can claim to have starred two future US Governors but Predator and The Running Man can boast of that accolade with Ventura making up half of that tag-team with none other than Arnold Schwarzenegger. Post politics, Ventura is best known as a conspiracy theorist and activist but for many he'll be forever associated with the foul-mouthed tobacco chewing, mini-gun wielding, "ain't got time to bleed" killing machine Blain from Predator. His acting resume isn't as glowing as others on this list, but when you've portrayed characters like Blain and The Running Man's Captain Freedom, that are still spoken about over twenty years later, he deserves a place at the table.
Hulk Hogan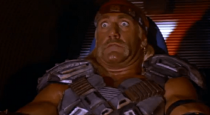 The template for bad wrestler films, Hogan wasn't the best actor and that showed in the majority of his roles. Even though movies such as Suburban Command and Mr Nanny were commercial and critical flops, Hogan's overall star power ensured he would continue to get roles. As his star waned in the late 90's, his time with Ted Turner's WCW opened many doors with producers and networks even if the end products were forgettable. Hogan was far from a good actor but he was one of the first wrestlers with such an immense crossover popularity that he paved the way for many to follow.
Latest posts by Thomas Simpson
(see all)