Alfred Hitchcock famously once said, "Always make the audience suffer as much as possible." Nicknamed The Master of Suspense, he certainly endeavoured to provide the cinema going public with as much thrills and spills as possible. He has created some of the most iconic moments in cinema history … And some of the most memorable characters.
Central to a number of Hitchcock's films were, of course, the cause of all the trouble; the villain. What is so key to the success and credibility of his films is the fact that most, if not all, of his antagonists were normal, suit wearing joes. There was no pantomime; no moustache twirling; no cheap gags. Hitchcock's villains were motel owners, uncles, college students or simply a stranger you met on a train.
We take a look at Six of the Best. Missed any? Let us know in the comments below.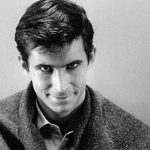 Norman Bates – Psycho
Still held up as one of the most fascinating characters in cinema, perhaps its unfair to label Norman Bates (Anthony Perkins) a villain. Many could argue that he was, rather, a victim of his upbringing. The music, the shower scene, the flashes of the knife are now imitated and admired the world over. Norman, the lonely and nervous motel owner, so desperate to please his mother conflicts neatly with the sinister smile that slowly creeps across his face at the end of the film suggests that Bates is more in control of his actions that we are initially led to believe …
Uncle Charlie – Shadow of a Doubt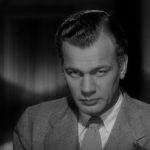 How does it feel to have an infamous serial killer look you straight in the eye? That's exactly what Hitchcock gives us with Uncle Charlie (Joseph Cotten), the "Merry Widow Murderer." He's enjoying playing at happy families with his older sister and her family. However, when his niece starts to realise that her Uncle is hiding a sinister secret, things take a turn for the worse. Charlie fits the pattern of Hitchcock's "man on the run", except that this is no case of mistaken identity. A brilliant performance by Cotten, who makes an utterly credible villain.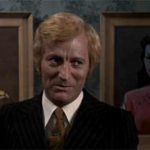 Bob Rusk – Frenzy
An often forgotten about film, Frenzy is truly one of Hitchock's most shocking, with Bob Rusk (Barry Foster) playing one of the most disgusting of villains. Rusk is the so-called "Neck Tie Strangler", slinking about the streets of London, raping young women and strangling them to death. The film definitely contains some of Hitchcock's more overtly shocking images; a dead body lumped in with potato sacks and the swollen eyes and tongue of one of Rusk's victims. It's a film that is supposedly a tribute to the director's East End upbringing – though it obviously doesn't paint the area in the best light.
Bruno Anthony – Strangers on a Train
Commutes can be hellish. But, imagine if a complete stranger got chatting to you and simply offered to bump someone off on your behalf? All you have to do is the exact same for them in return. The smooth talking, slick suited Bruno (Robert Walker) is the consummate screen villain; preying on the unsuspecting Guy Haines (Farley Grainger) who he convinces to take part in his murderous swap. He is perhaps the original psychotic socialite; initially convinced of his own invincibility but slowly unravelling as the film progresses. Did the pair truly meet through coincidence?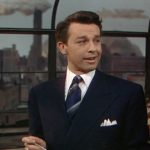 Brandon Shaw – Rope
John Dall (as Brandon) truly puts in a phenomenal performance here. Convinced of his own superiority, he – along with college classmate Phillip (Farley Grainger) – strangle their friend to death. Then, for pure wickedness, invite his parents and fiancée to a dinner party wherein the poor soul is propping up the buffet. James Stewart makes his first Hitchcock appearance as the suspicious Professor, Rupert Cadell. Dall's performance is absolutely perfect; he is charming and erudite … And utterly convinced of his right to take lives as and when he sees fit, owing to his intellectual prowess.
Lars Thorwald – Rear Window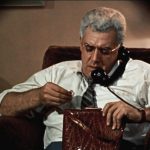 It's easy to get swept up in the James Stewart / Grace Kelly on-screen pairing in Rear Window. But what about the villain of the piece. Ironside and Perry Mason star, Raymond Burr, plays Lars Thorwald – a man who may or may not have killed his wife. This is a really clever example of Hitchcock's love of a cat and mouse chase – Stewart's character, L.B. Jeffries, is confined to a wheelchair and Thorwald is entirely insular. All the way through the film, there is little to suggest that Thorwald is as violent as Jeffries thinks … Until the film's exciting climax.
Editor at Moviescramble. European cinema, grisly thrillers and show stopping musicals are my bag. Classic Hollywood Cinema is comfort food. Spare time is heavily dependent on a lot of pizza and power ballads.
Latest posts by Mary Palmer (see all)