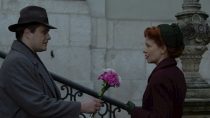 Coming to VOD is the Polish thriller The Lullaby Killer. For a few years people have been disappearing in Kraków and its environs; A total of 67 people are missing. Going against his supervisors, young investigator Karski (Tomasz Schuchardt) pursues his serial killer hypothesis. Soon there is only one man in his sights: Władysław Mazurkiewicz (Andrzej Chyra), who goes by 'Beautiful Władek'. He is a master of life, a wealthy womaniser and a respected citizen, but also a man with surprising connections, hypnotic charm and an obscure past. During the investigation Karski faces surprising difficulties, evidence and files disappear. People he trusts withdraw, and an unusual relationship emerges between himself and his target, complicated by a mysterious and beautiful woman who appears like a ghost.
The film opened the 29th Polish Film festival in America. The story is inspired by the most famous serial killer in Poland's history and is set in 1950s Krakow.
The Lullaby Killer will be available on all VOD platforms from the 26th of March 2018.
Editor-in-Chief at Moviescramble. A Fan of all things cinematic with a love of Film Noir, Sci-Fi and Julia Roberts in Notting Hill. He hopes to grow up some day.
Latest posts by John McArthur (see all)