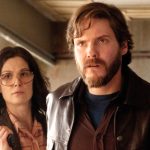 Director Jose Padilho is something of an unknown quantity. His biggest successes to date have been a couple episodes of Narcos and the 2014 remake of RoboCop. His latest thriller, 7 Days in Entebbe, has all the makings of an action-packed blockbuster but, rather interestingly, has a more intimate, intense feel to it.
The film stars Daniel Bruhl and Rosamund Pike and charts the true story of Palestinian and German terrorists who hijack a plane en route from Tel Aviv, forcing it to land in Entebbe Airport, Uganda. The terror group held all passengers and crew hostage in a bid to secure a $5 million ransom and the release of almost 100 Palestinian militants being held in Israel.
The trailer is perfectly paced and sets the film up to be incredibly fierce and violent, with short, sharp editing and an excellent soundtrack.
It's probably a chapter in history that there isn't too much general awareness of, which makes the prospect of a cinematic exploration all the more appealing. The cast also includes the likes of Eddie Marsan, Peter Sullivan and Nonso Anozie as Idi Amin.
7 Days in Entebbe is in UK cinemas on May 11.
Editor at Moviescramble. European cinema, grisly thrillers and show stopping musicals are my bag. Classic Hollywood Cinema is comfort food. Spare time is heavily dependent on a lot of pizza and power ballads.
Latest posts by Mary Palmer (see all)