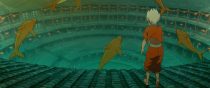 Coming soon to UK screens is the Chinese animated film Big Fish & Begonia. The amine was in production for twelve years and is a mixture of new and very old storytelling with references to classic Chinese stories. It premiered at the Annecy International Animation festival last year and was regarded as a great success whne it screen at the BFI London Film Festival in October. Since then it has opened in many international territories and is regarded as China's biggest anime film. 
In a world within our world, yet unseen by any human, the beings there control time and tide and the changing of the seasons. On the day Chun turns sixteen, she is transformed into a dolphin to explore the human world. She is rescued from a vortex by a human boy at the cost of his own life. Chun is so moved by the boy's kindness and courage that she decides to give him life again. But to do this, she must protect the boy's soul, a tiny fish, and nurture it to grow. Through adventure and sacrifice, love grows, yet now she must release him back to the sea, back to life in the human world.
The film is released on the 18th of April.
Editor-in-Chief at Moviescramble. A Fan of all things cinematic with a love of Film Noir, Sci-Fi and Julia Roberts in Notting Hill. He hopes to grow up some day.
Latest posts by John McArthur (see all)