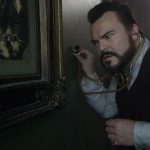 The pairing up of Jack Black and Eli Roth seems somewhat unlikely and yet that is exactly what The House With A Clock In Its Walls gives us. It's a creepy, fantasy-come-horror that will no doubt entertain and thrill.
Based on the 1973 novel of the same name, the film stars Owen Vaccaro as Lewis Barnavelt, an orphan who finds himself setting about tasked with locating a mysterious clock that has the power to bring about the end of the world. He turns up at the home of Mrs Zimmerman (a truly resplendent Cate Blanchett), where his uncle (Jack Black) also resides. The trailer opens with the adorable sight of the old Universal logo and Amblin Entertainment.
Things never seem to relax, as the constant sound of ticking and chiming perpetuate throughout. There is also a mysterious whisper of "Do you hear the ticking?" every thirty seconds or so. If this is going to be a kids film, it definitely feels more than a little uneasy.
Black's character tells his nephew, "You'll see, things are … Quite different here …" before an assault of creepy happenings are unleashed on screen. Baby dolls with missing eyes all turn in their heads in quick succession, a hand emerges from a tombstone and several toy soldiers all appear to corner orphaned Lewis and his uncle.
It seems to be well-paced and has an intriguing plot, quite literally beating away at the centre of it all.
The House With A Clock In Its Walls will be released in UK cinemas on September 28.
Latest posts by Mary Palmer (see all)