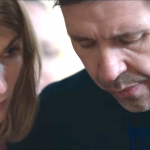 It's a very rare – and, yet, cathartic – experience to share a darkened room with forty other strangers who are crying and sniffling as much as you are. Choked down sobs, deep sighs and the occasional sniff perpetuated the 92 minute runtime of Journeyman like an addition to the soundtrack. That's because writer / director / actor Paddy Considine has created something so raw in its power and honesty, that you will, ultimately, end up emotionally exhausted by the piece. And that is, in no way, a negative thing.
This is not just another boxing film. Matty Burton (Considine) is set to defend his middleweight title against the cocky, trash talking Andre Bryte (Anthony Welsh), but events in the ring lead him down an entirely different path. This is a film about recovery, more than anything else. It's a truly thorough explanation of the theme; seen from all sides and all of those involved. The plot line is straightforward enough to allow Journeyman to be an entirely character driven piece, and this is where its success lies.
Considine absolutely avoids all cinematic tropes about the sport itself but also about the healing process he, his wife and his friends undertake. This is, by no means, a saccharine Hollywood story about "the underdog". This is a story about a "journey" but it is devoid of all the usual cliches you would expect it to be populated with. Harry Escott's soundtrack reminded me of the incredible Ludovico Einaudi score for Shane Meadow's This Is England. It contributes perfectly to the emotion conveyed on screen.
At times, Journeyman is so honest, you can hardly bare to watch. The chemistry between Matty and his wife, Emma (played with immense credulity by Dr Who in waiting, Jodie Whittaker) is utterly believable. Despite the fact that she is not in a great deal of the film, her presence is more than felt. They actually seem in sync as a married couple, and the "journey" they go on together will absolutely capture your emotions.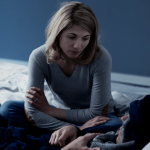 And this is where the beauty of the film lies. If any of us have visited a loved one or friend in hospital, you will know how difficult it is to make small talk or to feel remotely helpful. You have no idea if you are saying or doing the right thing. Matty's former boxing team – Tony Pitts and Paul Popplewell – initially stay away from their friend. Because all they can see is a former world champion reduced to someone who can't make a cup of tea or fasten his own seatbelt.
I didn't think it was possible for Considine to outdo 2011's Tyrannosaur. Clearly, I was wrong. The "phone call scene" in Journeyman just about led to a full on breakdown in the cinema. Literally, there was an entire auditorium full of people trying to suppress their tears. The film is utterly unflinching in its take on the recovery process. Matty lashes out at Emma and there is a truly distressing scene involving his young daughter, Mia.
Considine is an absolute powerhouse at the heart of it all. The verbal and physical tics that he acquires are quite heartbreaking; at times it is as if he is trying to physically draw the words out of his mouth or tap into memories he hopes remain inside. His performance is incredibly subtle – matching the nuances of Whittaker as the beleaguered yet hopeful driving force behind his recovery.
Whilst you never really relax into a film like Journeyman, you will leave the cinema feeling like your soul has been purged. There is something truly uplifting about crying in the dark. Considine has managed to create and nurture something special here; supported by a phenomenal cast and a simple, yet thorough, storyline. A triumph, in cinema and in spirit.
Latest posts by Mary Palmer
(see all)