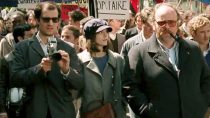 Premiering at Cannes Film Festival in 2017, Academy Award winning director Michel Hazanavicius returns with this moving tribute to classic cinema. In 1960's Paris, Jean-Luc Godard (Louis Garrel) is the leading filmmaker of his generation. He's shooting La Chinoise with the woman he loves, Anne Wiazemsky (Stacy Martin), 20 years his junior. They are happy, attractive, in love. They marry. But the film's reception unleashes a profound self-examination in Jean-Luc. The events of May '68 will amplify this process, and the crisis that shakes the filmmaker. Deep-rooted conflicts and misunderstandings will change him irrevocably, and the revolutionary, destructive, brilliant filmmaker will pursue his choices and beliefs to breaking point.
The film has enjoyed a successful premiere at Cannes followed by screenings at most of the major film festivals. Just to confuse you the original title of the film is Le Redoubtable but it is also known as Godard Mon Amour in a variety of international territories.
The film is released in the UK on the 11th of May.
Editor-in-Chief at Moviescramble. A Fan of all things cinematic with a love of Film Noir, Sci-Fi and Julia Roberts in Notting Hill. He hopes to grow up some day.
Latest posts by John McArthur (see all)