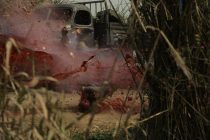 Coming soon to home entertainment formats is Youth (original title Fang Hua), the winner in the best film category at the recent Asian films awards. It is the new film from Chinese filmmaker Feng Xiaogang. Highly popular and successful in his home country for his comedies and period dramas, he is arguably best known internationally for his critically lauded war film Assembly.
The plot focuses on the character of Xiaoping (Miao Miao). When she  joins the military, delicate dreams are dashed by the events of China undergoing a revolution. The devastating Sino-Vietnamese War crashes into 1970s China, changing the lives of the Army's young recruits forever. In this epic spanning several decades, Youth shows Comrades of the People's Liberation Army fight amongst
themselves as much as on the battlefield – and cause as much damage as the War that tore their lives apart.
Youth is released on DVD, Blu-Ray and digital download on the 7th of May.
Editor-in-Chief at Moviescramble. A Fan of all things cinematic with a love of Film Noir, Sci-Fi and Julia Roberts in Notting Hill. He hopes to grow up some day.
Latest posts by John McArthur (see all)