What makes a film a film? What makes cinema, cinema? If clothes maketh the man, what maketh a movie? That is a question that has provoked a lot of debate ever since directing behemoth, Steven Spielberg, declared in an interview that he didn't think that "made for Netflix" films should ever be considered for the Oscars.
He told ITV News, "Once you commit to a television format, you're a TV movie. You certainly, if it's a good show, deserve an Emmy, but not an Oscar. I don't believe films that are just given token qualifications in a couple of theatres for less than a week should qualify for the Academy Award nomination."
So, does he have a point? You could absolutely argue – if you think of all those terrible Hallmark channel made-for-TV efforts – that he does. Despite your content being the "correct length" to be considered a film, as opposed to a TV special or series, you have committed to the format of television. You have opted out of cinematic release. And, as we all know, the Oscars (and other major film awards ceremonies) definitely choose to celebrate films that have spent at least some time on the big screen.
It's not that Spielberg was rubbishing the quality of Netflix or Amazon productions – sure, he's given us a few stinkers himself – but the format and marketing behind them. Netflix and Amazon don't tend to take up traditional advertising slots in TV and cinema that "normal" cinematic releases do. They rely on word of mouth or social media campaigns as to when a new film or series will drop.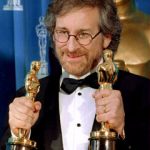 There is no arguing that Netflix and Amazon productions aren't successful. Film such as Annihilation, Mudbound and documentaries like Ava du Vernay's 13th have all met with roaring success. (Or, at least, so Netflix claim, since they won't release their viewing figures). Science-ficiton drama, Okja, had its premiere at the Cannes Film Festival, and although the film itself was met with okay reviews, the Netflix logo on screen was met with boos. Cannes has since declared that it will remove online only films from the competition process.
Spielberg has touched on something of a great divide. In the hearts of critics and movie lovers alike, we view these films as two very distinct experiences. Going to the cinema is all about the smell of the popcorn, keeping your ticket stubs and telling the moron in the back to turn his fucking phone off. It's about the tradition; the sights, the smells, the anticipation.
There is none of this at home. Netflix and Amazon are something you can start, pause, stick the dinner on and check Facebook whilst you are watching. It definitely doesn't feel the same as a trip to your local multiplex. Moreover, we are – as viewers – more likely to associate the Netflix platform with hours of binge-worthy series as opposed to Oscar nomination fodder.
However, it could be argued that Spielberg is simply rubbishing a format that he will never need to rely on. As one of cinema's "big names", he is never going to need a platform like Netflix or Amazon to get one of his movies released; simply being attached to the project is enough.
Similarly, Christopher Nolan also weighed in on the debate last year when he was promoting the big-budget WW2 drama, Dunkirk. He was quoted in The Atlantic as saying, "Netflix has a bizarre aversion to supporting theatrical films. They have this mindless policy of everything having to be simultaneously streamed and released, which is obviously an untenable model for theatrical presentation."
If Spielberg was being generous about the issue, Nolan had no problems in using a far stronger vocabulary to voice his opinion on the matter.
It's a tricky subject to navigate. Enjoying a really well made film on Netflix is, in theory, to enjoying an equally great film in the cinema. The main differences are the format (big screen vs small screen) and location (plush red chair v couch). Are those differences enough to negate the performances, the direction, the soundtrack and the overall skill involved?
Steven Spielberg and Christopher Nolan certainly seem to think so, what about you?
Editor at Moviescramble. European cinema, grisly thrillers and show stopping musicals are my bag. Classic Hollywood Cinema is comfort food. Spare time is heavily dependent on a lot of pizza and power ballads.
Latest posts by Mary Palmer (see all)