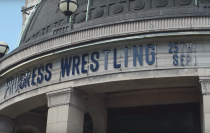 For those who choose to follow it, professional wrestling is often more than just a hobby, pastime or even career. It's a way of life, an addiction, a lifeline when it feels like there is nothing else to turn to. This Is Progress follows a number of individuals, including the promoters, the wrestlers and the fans, who will forever be linked to the Progress Wrestling promotion.
Starting life as a short film by Elixir Media, This Is Progress looked at the promotion's rise from its humble roots in a London club to filling the Brixton Academy. Due to the overwhelming support the documentary received, the work was moved to Kickstarter, with the original goal of £25,000 surpassed allowing more work to continue. New footage covered the fallout of the Brixton show, charting the year following the event, including shows in the United States and yet another huge show at Alexandra Palace.
The original short, which focused on Mark Haskins and his family, Progress "Ultra" (the promotion's term for fan) Paul Lee and the owners Jim Smallman, Jon Briley and Glen Joseph was able to be extended. Thanks to crowd-funding more wrestlers were included such as the New Zealand star Dahlia Black, long-term Progress stalwart Jimmy Havoc and Jack Sexsmith.
For those who may be concerned about their knowledge, or lack of, on the Progress promotion, This Is Progress isn't a movie that requires advance knowledge for viewing. It's not even necessarily focused on the wrestling side of the promotion, with the humans who make up the tight knit "family" unit absolutely front and centre. While you'll appreciate more of the "little things" as a Progress fan, including memories of Jimmy Havoc bullying his way to the Progress championship or glimpses of current WWE stars in a Progress ring, these are fan-service nods and in no way alienate those who may not recognise them.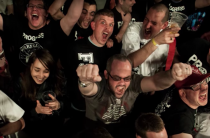 Mark Haskins is featured heavily, as the first half of the movie follows his career with the company to his first Progress championship win, through the sacrifices made by himself and his family. The second looks at the longer lasting health effects caused by years of wrestling and some tough decisions that are made after Mark has to give up the championship on orders of his doctor.
Viewers get an insight into the lives of promoters and owners Jim Smallman, Glen Joseph and Jon Briley. Three men with a shared passion for pro-wrestling and a shared vision of a wrestling show that has one ethos- that everyone is welcome. We see a lot of Glen Joseph as he moves away from his role as Buddy Holly on stage to concentrate on Progress full-time. We're also shown how they all build relationships with the wrestlers as well as each other, making sure Progress functions not only as a business, but also as an entertainment medium that will keep people buying tickets, subscribing to the on-demand service and generally watching the product. The behind the scenes look of the lives of everyone involved, from shipping merchandise to backstage at shows, is fascinating and explores the grassroots ethos of the company. From a fan perspective Paul Lee, shows us his routine of travelling to the shows from the North East of England to London, or even Birmingham and Sheffield. It's clearly demonstrated what impact Progress has had on his life and what his place is in the Progress family.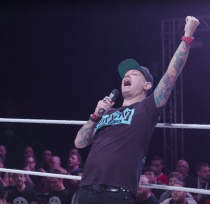 There's plenty here to enjoy as a fan of the promotion but even if you are not, at no point should This Is Progress become alienating or boring. Despite some fantastic in-ring footage including some awesome slow-mo shots and famous moments, this is not a wrestling documentary. This is a documentary with wrestling in it and an adequate explanation is done throughout the film to keep everyone up to speed with what is going on. While a few sections later on don't have as much focus on them as I would maybe have selfishly liked (more Jimmy Havoc, for example), the main storylines keep focus throughout and prove some genuinely touching moments, particularly with Glen and Paul.
This Is Progress proves to be an interesting and moving look at a growing wrestling promotion and the passion of those involved in it from the ground up. While it may not convince non-wrestling fans to buy a ticket to a show, it absolutely shows the passion that is created by a sport that, despite what it's detractors say, is only as fake as you allow it to be.
This Is Progress will be available in selected theatres and streaming services later in 2018.
The original short film can be viewed below.
Latest posts by Stewart Lange (see all)