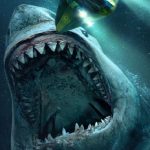 Sick of superhero blockbusters dominating your summer cinema viewing? Would you rather watch Jason Statham punching a really massive shark? Look no further than the first trailer for The Meg … 
At the Mana One Research Station, 200 miles off the Chinese coast, expert deep sea diver and naval captain, Jonas Taylor (Statham) and his colleagues are confronted with one of the biggest sharks in the history of nature. "It's a megalodon," he whispers, menacingly. Directed by National Treasure's John Turteltaub, the film looks set to make Jaws look like scampi.
The trailer starts of mysteriously enough; creepy music, glass underwater tanks, the imprint of a fucking massive shark … Then the jaunty beat of Bobby Darin's "Beyond The Sea" kicks in and we are treated to shots of shark shadows lurking underneath the water, panicked tourists, a ginormous squid, a scared dog and Statham's trademark raging face. It's a film that doesn't seem to be taking itself too seriously, which will hopefully make for some witty exchanges as well as explosive action sequences.
The film also stars the likes of Ruby Rose and Rainn Wilson and is based on Steve Alten's 1997 book, "The Meg: A Novel of Deep Terror." With a tagline that reads, Chomp on This, Statham et al will be battling their way in to UK cinemas on August 10, 2018.
Editor at Moviescramble. European cinema, grisly thrillers and show stopping musicals are my bag. Classic Hollywood Cinema is comfort food. Spare time is heavily dependent on a lot of pizza and power ballads.
Latest posts by Mary Palmer (see all)