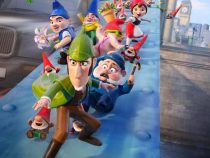 It is all too easy to get a bit sniffy about the forays into cinema taken by Elton John's Rocket pictures. 'It's a film for kids' is often bandied about to describe the output which brings to mind some of the truly awful movies that have graced our screens over the last couple of years. Although aimed squarely at the pre teen market the films have a lot going for them in terms of sheer entertainment. The fact that the first film, Gnomeo & Juliet, made a tidy profit would have factored into the decision to go forward with a sequel.
For the second instalment the action is transported (literally) from Stratford to London. As the Gnomes settle into their new garden it becomes apparent that all is not well. Prized garden ornaments in the form of fellow gnomes have been removed from their homes under mysterious circumstances. On the case comes the self-proclaimed protector of gnomes everywhere, Sherlock Gnomes. After Gnomeo's garden friends are abducted, It becomes apparent that his arch-enemy Moriarty is behind the plot. Gnomes and his sidekick Watson team up with Gnomeo and Juliet to try to save their missing friends.
This is a film that knows what it's audience expects and it doesn't disappoint. It is bright and colourful with some rather nice animation that borders on photo realistic at times, especially when it involves real world settings. It is all in the attention to detail. Even though it takes the familiar sequel route of transplanting the characters into another situation in order to generate a story it works because the audience are already familiar with the protagonists and they just want to be back in their company.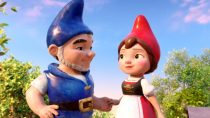 The story itself is one of the main reasons why the movie works. Taking a different approach is always a risk. It would have been all too easy to just churn out another adventure in Stratford and not really stretch the franchise at all. Fortunately the film makers had other ideas.
It has a rapid pace to it which keeps the younger viewers engaged. We switch from action and drama to comedy and back with barely a lull. It is the characters that enable this to flow seamlessly. All the previous ones are present and correct. The addition of the master detective and his world adds rather than detracts from the originals. We get nods to a lot of the world of Holmes with various elements of his story brought to the screen. We get the fractious relationship between Holmes and Watson, his determination, his supporting cast including a particularly good Irene Adams turn from Mary J. Blige and references to his literary back catalogue. Basically something for everyone.
Sherlock Gnomes won't stretch you in any sense of the word but is an entertaining movie. Sometimes that is enough.
Editor-in-Chief at Moviescramble. A Fan of all things cinematic with a love of Film Noir, Sci-Fi and Julia Roberts in Notting Hill. He hopes to grow up some day.
Latest posts by John McArthur (see all)