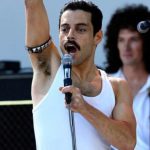 There are few moments more iconic in music history than Queen's performance at Live Aid in 1985. It was British music at its best; showcased to the world through the creative genius of the band's flamboyant and energetic lead singer, Freddie Mercury.
A biopic about the inspirational Mercury has been on the cards for years. For quite some time, Sacha Baron Cohen was associated with the project before it all seemingly fell through. However, I, Robot's Rami Malek has stepped into Mercury's white vest and ripped jeans to bring the music of Queen to an international audience once again.
Complete with glistening front teeth, Malek is not performing the music himself – as Joaquin Phoenix pulled off with Johnny Cash – but certainly seems to putting in a powerful, exciting performance.
The trailer doesn't really give too much away, although there is a really good mix of songs, woven together into one, iconic soundtrack. Hearing riff after riff reminds you just how many incredible songs the band produced. There are a few jokes about the composition of the film's titular track and a couple of snippets of Malek speaking. The focus is definitely more on the performance element of the band – both in the studio and live – as they make their way towards their Live Aid slot.
Directed by Dexter Fletcher and Bryan Singer, the film also stars the likes of Mike Myers, Tom Hollander, Allen Leech and Ben Hardy.
One thing's for sure, Freddie Mercury knew how to work an audience into nothing more than absolute frenzy. It's yet to be seen if Malek will be able to do the same.
Bohemian Rhapsody is set to hit UK cinemas on November 2.
Latest posts by Mary Palmer
(see all)